Basic Principle, Structure
Thermo Pellet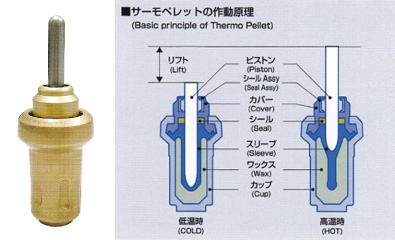 Thermo pellet is responsible for thermostat function control. Our thermo pellet is recognized worldwide for its excellent quality and is widely used in automobiles, aircraft engines as well as common bathroom appliances.
---
Bellows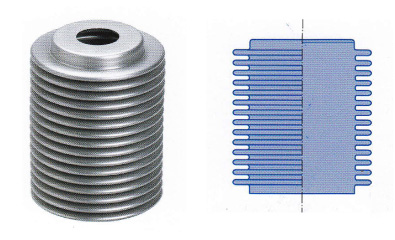 Made from a thin metal pipe, Bellows looks like a Japanese paper lantern after processing.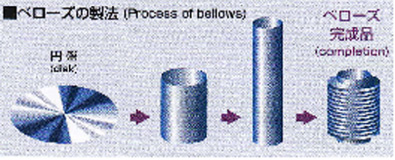 AUTO PARTS
Thermostat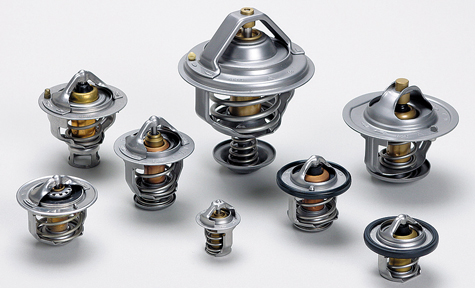 Cooling and temperature control systems are required in automobile engines to facilitate high performance.The temperature adjustment valve is widely used in water based cooling systems.
---
Integrated Thermostat with Plastic Case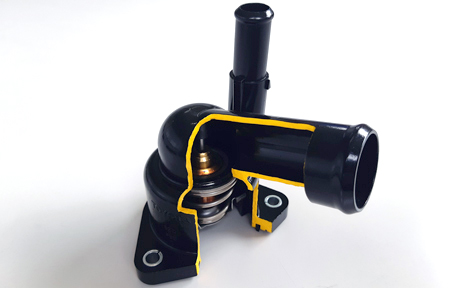 We have put together the originally separate Thermostat and Housing (cover case) to create a Single unit. The result is reduction in the number of part required and easier installation. Also, by using resin we have greatly reduced the weight of the Housing in comparison to the previous aluminum die cast parts.
---
AT/CVT Thermo Valve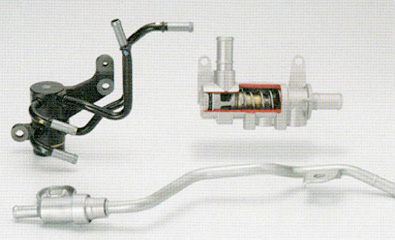 AT/CTV transmission, it is used as a control valve of an oil cooling in order to reduce the heat load by the temperature of oil rises.
---
Top Bypass Thermostat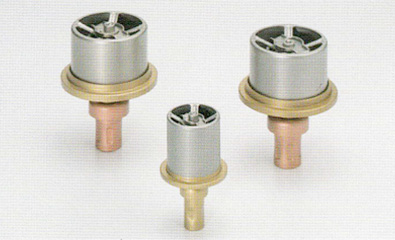 Unlike other thermostats, can be used at high differential pressure, and with either outlet or inlet control systems. Therefore water based systems in oil temperature control applications and other main applications include construction machinery, marine equipment, and large-sized vehicles.
---
Thermo Valve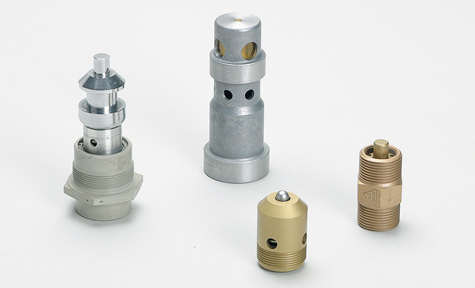 This valve is used widely in internal combustion and lubricous machinery, which need oil cooling and furthermore as a temperature control valve for the oil of oil pressure devices.
---
Thermo Pellet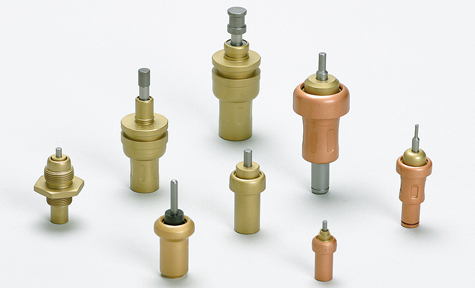 This Thermo Pellet makes wide range temperature control from -40°C to 150°C possible.
---
Pressure relief valve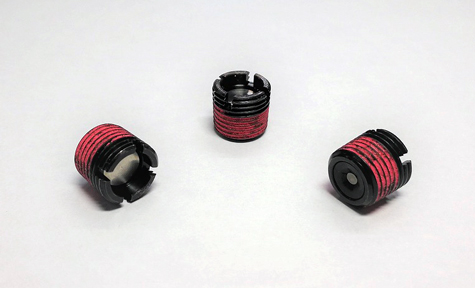 Protective relief valve.
Features of pressure relief valve
Protect the unit from overpressure.
Application of the pressure relief valve
Used for automotive viscous coupling.
Operating pressure; 6.9 MPa
Mounting screw: R1 / 8
HOUSING EQUIPMENT PARTS
Thermal Valve ( For floor heating etc. )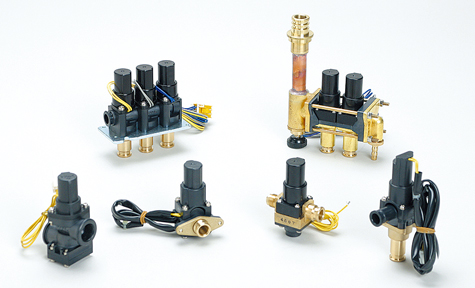 A valve used as an ON /OFF control valve for water flow in hot water based heating systems (antifreeze). Applications include hot water type floor heating systems, bathroom heaters and heated water replenishment for baths.
---
Constant Flow Valve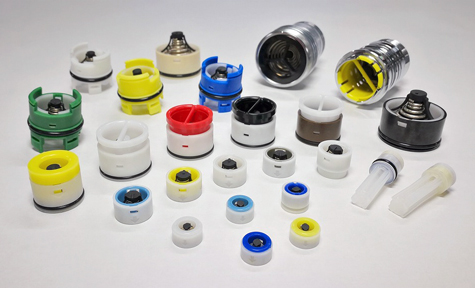 A valve used to expel water based upon the pressure change of incoming water. Applications include machinery requiring fixed water volume values or water-saving functions such as water heaters and toilets.
---
High Efficiency Valve
A control valve combining the Constant Flow Valve, the Open-Close Valve and the Vacuum Breaker. Applications include direct water supply tankless toilets.
BELLOWS, AEROSPACE PARTS
Bellows Assembly for Space Equipment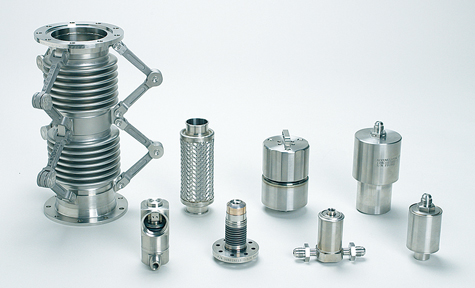 These highly reliable Bellows are used in valves in fuel pipes, actuators, fuel control valves and other various kinds of valves required in extremely low temperature, high-pressure environments experienced by domestic rockets and space stations.
---
Bellows Assembly for Aviation Equipment
These Bellows are used to meet the demands of the aircraft industry which requires superior quality, extremely reliable Bellows for use in jet engines, fuel control systems, pressure and temperature sensors and pressure switches etc.
Other BELLOWS
Bellows

Bellows Assembly